Main Content
Creative Decks is a Design-Build, Outdoor Living Specialist.
Established and strong rooted in the Metrowest area for over 20 years, with a long list of completely satisfied customers and many loyal repeat ones. Focused on the designing and building of: Decks, Farmers Porches, Front Entry's, Screened Porches, 3-Season Rooms, and Sunrooms.
Design a beautiful outdoor space to entertain family and friends with the help of Creative Decks!
We comfortably work on occupied, single family residential homes, with and around you and your family. Fully Certified, Licensed, Registered, Insured, and Incorporated company.
WHAT OUR CUSTOMERS ARE SAYING: Kristin L.- "The 3D design work prior to project start really helped me to make the size and configuration decisions with confidence. I am very happy…" Jennifer V.- "The entire process went amazingly smooth and easy thanks to their hard work and efforts. From the design stage, where 3D renderings gave us a chance to see the outcome in a clear manner and make tweaks easily, to the building phase where wood and railing choices were explained and shown, the entire project was perfection. Stephen meticulously kept us informed every step of the way and provided an unmatched level of service in terms of his communications…" Cathy C.- "We called Steve to get some ideas on a replacement deck. He worked with us to design a beautiful new maintenance free deck." Sarah O.- "We worked with Creative Decks to add a deck to our home and couldn't be happier with our experience! Stephen is an expert in designing and constructing decks of the highest quality materials and with attention to every detail. Plus, our project was completed on time and on budget. He and his crew were an absolute pleasure to work with."
Our Service Area (within the green outline):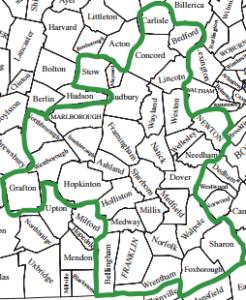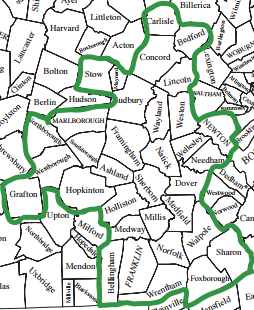 Contact Us Today
*PLEASE NOTE- Unfortunately at this time we have to respectfully decline that we are unable to accept any new inquiries, due to a backlog of projects.