Creative Decks is a Outdoor Living Design Specialist. Focused on consulting, budgeting, and design drawings to drafting of construction plans for- Decks, Screened Porches, 3-Season Rooms, Sunrooms, Front Porches and Hardscapes/Patios.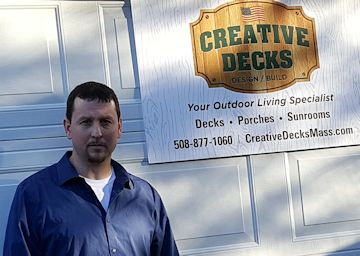 Established and strong rooted in the MetroWest area for over 30 years, with a long list of extremely satisfied homeowners.
It starts with listening to all your project ideas, and giving you our design input. Then inputting your dreams into a high end CAD Design program to create conceptual drawings with realistic 3D color renderings. These Design Drawings means no guessing what your project will look like! On to well thought out and Mass. Code compliant Construction Plans in 2D B&W w/3D color annotations. This process gives you a complete set of plans for your benefit, and to submit to your local municipality for Building Permit approval, ready to build to!
For the highest quality and professional project all homeowners deserve.
Design a beautiful outdoor space to entertain and relax with family and friends with the help of Creative Decks!
Serving the Greater Boston and Metrowest area: